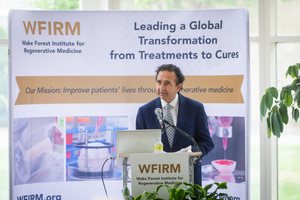 WFIRM combines organoids, artificial intelligence
WINSTON-SALEM, NC, MONDAY, JUNE 27, 2022 – A $36 million award from the Defense Threat Reduction Agency (DTRA), part of the Department of Defense, will mark the creation of the Wake Forest Institute for Regenerative Medicine (WFIRM ) enable a research and development program to study the way a virus enters and infects people.
An official launch event was held today, attended by DTRA scientists and officials, members of the WFIRM research team, elected officials and others from community and business groups.
The program, called Pathogenesis and Toxicity Forecasting Using Multi-Organoid Systems (PATMOS), uses WFIRM's body-on-a-chip platform to study the biochemical changes that take place in viral infections. The platform consists of an advanced 3D model of human tissues or organs, which provides a more realistic model than standard two-dimensional cultures. Combining the biological data generated from body-on-a-chip with the computing power of machine learning and artificial intelligence should result in a powerful tool that will find links between infections and human biology that have not yet been identified.
The PATMOS program will infect the 3D organs or organoids with different viruses and analyze what happens during infection. Biochemical changes taking place at the molecular and cellular levels are tracked and the data fed into the artificial intelligence, which begins to learn the intricate interplay of these subtle changes.
"The body-on-a-chip is an ideal platform to study how a virus can infect specific human organs and tissues," said WFIRM Director Anthony Atala, MD. "This proof-of-concept research program provides a valuable tool for developing a prediction algorithm to respond more quickly to any type of virus threat."
Atala added that the research will lay the groundwork for the development of medical countermeasures, biomarkers for infection and diagnostics.
"This work will provide valuable information that could lead to the identification of new ways to combat viral threats and give our service staff a significant advantage," said WFIRM researcher and team member Patrick McNutt, PhD. "In a human, these subtle changes occur days before the person feels ill."
Other WFIRM team members include: Colin Bishop, Metin Gurcan, John Jackson, Alan Jacobson, Frank Marini, Sean Murphy, David Ornelles, Graca Almeida Porada, Chris Porada, Michael Seeds, Thomas Shupe, Shay Soker and James Yoo. Technical support from Kelly Burkett, Linda Mason and Lynn Stedman.
---
research method
news article
subject of research
Tissue samples prepared in the laboratory
Disclaimer: AAAS and EurekAlert! are not responsible for the accuracy of the press releases published on EurekAlert! by contributing institutions or for the use of information about the EurekAlert system.