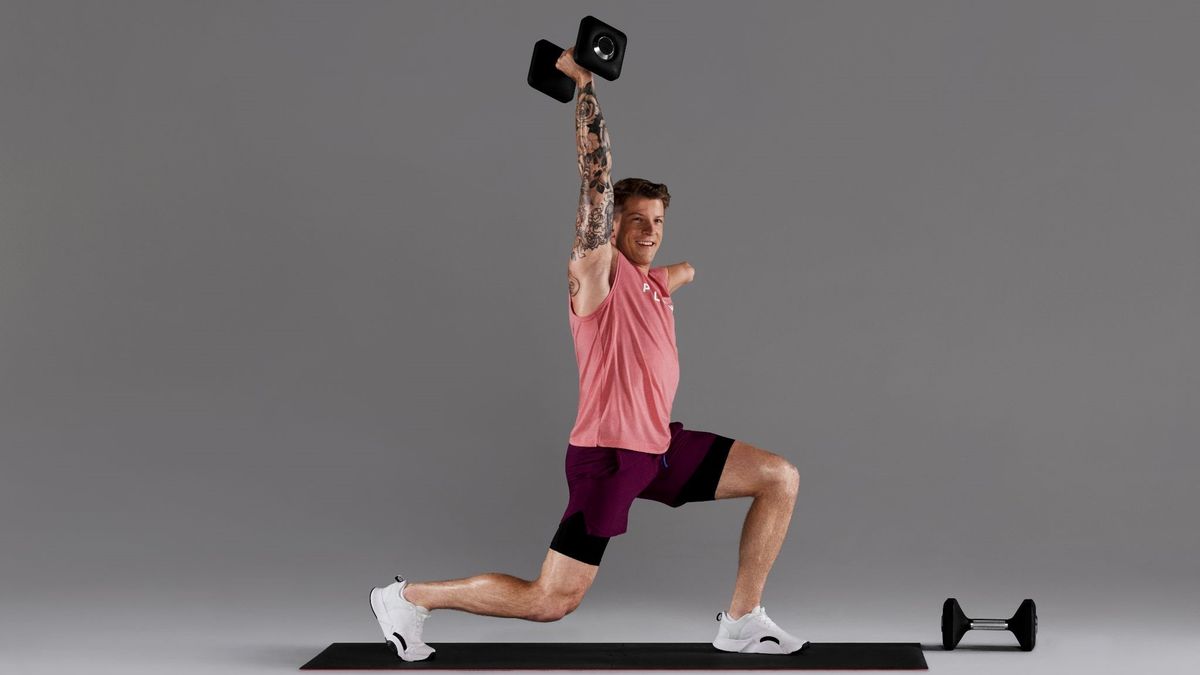 Peloton's new instructor brings adaptive training to the masses
If you want to feel inspired just check out Logan Aldridge's resume – after losing his arm in an accident at age 13, Aldridge competed in the CrossFit games as a para athlete, deadlifting 500lbs, furnished Adaptive Training Academy, and now he's Peloton's newest instructor. He's also one of the most positive people I've ever met.
"I had such an incredibly deep insight into what fitness can do for people," says Aldridge when I ask him what training means to him. Its adaptive training courses aim to make fitness available and accessible by offering personalized movements and exercises for people of different abilities.
The classes, which launched on the Peloton platform in early June, fall into two categories – sitting and standing – and span the genres of HIIT, cardio, strength and stretching. Intended for all adaptive athletes, they are just the beginning of Aldridge's journey as a peloton instructor.
Aldridge is living proof that the secret to overcoming a challenge is to adapt. "I'm here, I think, for something much bigger than myself," he says. Read on to find out what happened as we sat down to talk about his journey, training and plans for Peloton.
Logan, congratulations, you're a Peloton Instructor! Can you summarize what that means for you?
Oh my god this is the hardest question to answer because I have so many positive amazing emotions! The word excited doesn't do it justice. I think I'm here for something much bigger than myself, so starting out as an Instructor feels really fulfilling. I still have to pinch myself – it's been an incredible experience getting to know everyone and being made to feel so welcome by the company and also by the platform. I have never had so much gratitude and appreciation for this community that supports me as an individual and my efforts to truly improve accessibility on the platform. We're showing that people of all skill sets deserve and absolutely have a place here. I think it's just the beginning of a massive movement.
Can you share something about your training background and how you got into this field?
When I was 13, I lost my left arm in a boating accident. As a left-hander, I had this experience as an amputee immediately after being hospitalized with a lot of expectations about what I might or might not do in my future. I was a very active young kid and refused to accept what people thought of my abilities. I always wanted to find out and learn for myself whether I can or can't do something.
Through this experience I discovered that as humans we tend to be far more capable than we think we are. People living with different abilities and disabilities are exposed to this social expectation which implies that having a disability is less able.
When I went to college I majored in business administration and as a business owner after high school I started implementing some technology solutions in the field of robotic prosthetics. It was then that I had an epiphany – I thought that the purpose of my life could be to show people with a traumatic injury how possible and how fruitful their lives could be with this new normal. I have met people who placed a lot of hope and expectation in an artificial limb – they had the attitude that it would make them what they were before the accident and restore their confidence.
As I delved deep into the fitness field, I tried to better understand the existing issues that make someone in a wheelchair or someone missing an arm like me feel uncomfortable entering the gym. That was the start of my journey about eight years ago, where I then founded the Adaptive Training Academy, an organization I founded with a friend of mine here in the United States.
We started this organization as an educational organization to recognize that the real barrier to entry is the knowledge and experience of trainers and therapists [had]. We created the Adaptive Inclusive certification to help trainers and facility owners feel comfortable with the knowledge to welcome everyone through their doors and provide them with a safe and effective training program. And in a way that was my role at Peloton – in addition to being a regular instructor in the strength training category, I also lead the role of adaptive training specialist and help develop that content on a platform.
What do you think are the biggest challenges or barriers when it comes to making training accessible?
Sometimes it literally goes into space. This is a real example – a wheelchair user living in an apartment on the second or third floor. Maybe there are stairs they have to figure out how to get down, maybe the parking lot is difficult to navigate, does the gym then have all the proper considerations to really be wheelchair accessible? Those are all the physical barriers to entry that make it difficult. I'm not here to feel sorry for someone in a wheelchair, I'm here to recognize that there are more physical barriers to entry.
In other circumstances it is a psychological barrier. Going to a gym is daunting for some people. Most people with different abilities or disabilities don't want to be the center of attention – they don't want people to look at them and say, 'Wow, how are you supposed to do that? How will they perform this movement? How is that supposed to work?" I think that's the purpose of this opportunity.
At Peloton, we create an adaptive training program designed to meet people, wherever they are in their fitness journey and how they perceive their condition or themselves. We meet them in their own environment when they feel safe and ready. Download this app and get started – that's all you need. We give people a place to start moving and show them that movement is empowering. The overall goal is to remind everyone of how capable they really are and show them that there are movements that are meant for them and that there are ways to reach and achieve their physical fitness and health goals reach.
What can people expect from your adaptive classes?
You can expect two general categories – standing and seated classes. We're going to focus on basic movements, movements that are very transparent and transferrable to real life – things like squats, things like deadlifts. It is important to remember that no two adaptable individuals are alike. We may be very similar and similar in many ways, but another left arm, a humerus amputee, may look a lot like me, but we may have very different psychological and physical differences in the way we deal with the condition – Sensitivity issues, range of motion, ability to bear load and resistance. So I show a lot of really great mods in my classes and help you find ways to move forward.
How do you stay so positive and how do you use health and fitness to take care of your mental health?
I remain so positive because I have experienced so incredibly deeply what fitness can do for people. Over the last seven to eight years it has been remarkable how much transformation I have seen in individuals, both psychologically and physically. Exercise can change someone's mindset – someone who has found myself suffering is me, the world is out for me, I have this accident and I'm in this state and it sucks. Taking her through this journey of self-discovery through exercise, fitness, purpose and really understanding why this movement is important to her has been incredibly empowering.
For people with different abilities, living in environments that aren't normally suitable for them when they're constantly reminded that they're different, giving them the space and strength to express themselves has been the coolest experience of my life move. I have realized that people are much bigger than they know or believe. And I believe that through exercise we train our bodies and sharpen our minds. Let's pursue our potential together and I think we'll both be surprised and empowered by how capable we really are.
---
Logan's adaptive training courses are now available live on the Peloton app. Read our Peloton app review here, and if you're thinking of adding a Peloton to your home gym, be sure to read our Peloton Bike Review and our Peloton Tread Review first.