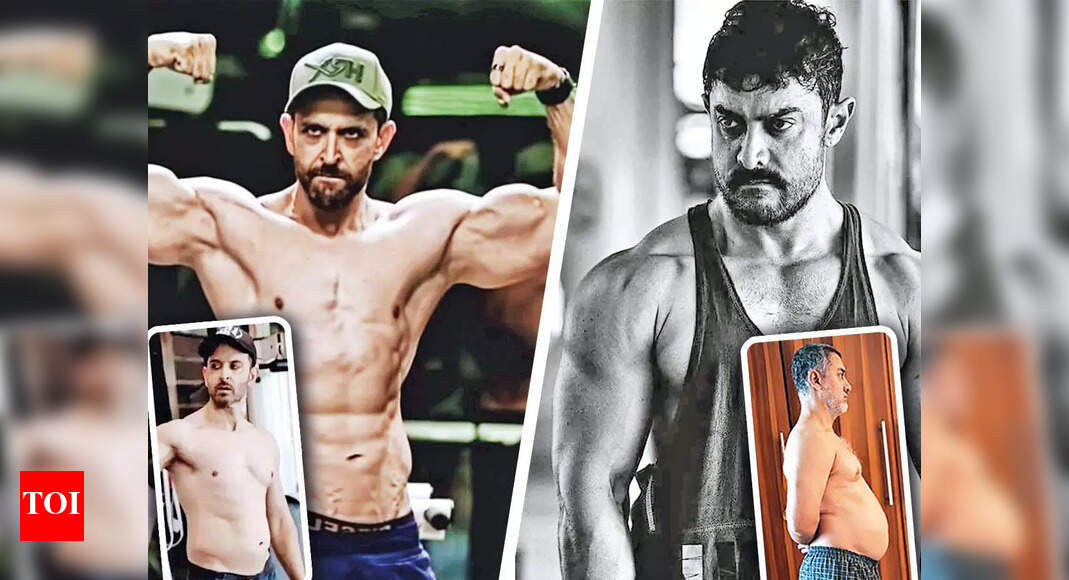 Don't try this at home: Trying celebrity-inspired extreme weight loss diets without expert guidance can be harmful
Attempting viral or celebrity-inspired extreme weight loss diets and workouts without expert guidance can prove harmful, sometimes even fatal
You may have seen the above legal warning in ads featuring risky stunts, but they rarely accompany viral body transformation videos that say "fat to fit in 21 days" or "six pack abs in four weeks." Also popular are three-minute videos with actors in their 40s ripped in record time for their latest movies. However, inspired middle-aged men should keep in mind that these stars' dramatic transformations are only possible with expert supervision – aka, don't attempt this at home!
Do you want a body like Hrithik's? Take it easy and consult your doctor and trainer

Actors like Hrithik Roshan – who shared his transformation journey before filming War – are able to pull off such intense workouts and diets because they've been training for a long time, says Kuldeep Shashi, one of the six trainers who worked with the actor about his body transformation .
It took Aamir Khan almost five months to shed the extra pounds he gained to play Mahavir Singh Phogat in Dangal. The actor weighed 97 kg with 38% body fat, which he reduced to 9% with a team of experts and trainers. Will Smith also posted a picture of his quarantine body on social media and chronicled his abs journey online for fans. Men in their 40s and 50s tempted to try their regimen – stay tuned! Experts state that most of these celebs have been training throughout their careers. On the other hand, such extreme diets can prove dangerous for someone who is new to exercise or who is not training under supervision. "These actors love food and have been training for this 'look' for months and weeks. Also, it might be worthwhile for them as it is a professional commitment, but for an ordinary person it might not be worth it," says Yash Vardhan Swami, Health Coach, Coach and Nutritionist.
Kuldeep Shashi, founder of a gymnastics center who also trains Tiger Shroff, warns: "
aadhi Knowledge
hona sabse galat hai. Even if you follow a 40-day diet plan, your body needs time to prepare and get used to it. And that's not a one-man job. It takes a team and whoever is leading you should have the right knowledge."

Shashi continues, "You can't start dieting or working out like these stars out of the blue. Your body needs to get used to exercising first, and then you can slowly move towards that goal. Get advice from your doctors and trainers and do a health check. Know what your body is lacking, tell your trainer and he will train you accordingly."
Also, beware of extreme diets: experts

Crash courses and low-calorie diets are unscientific ways to shed a few extra pounds in a short amount of time. They can work temporarily, but drastically affect your health. One such cricket diet fad that came to light after the death of the great Shane Warne is the liquid diet. His manager, James Erskine, had told a publication that the 52-year-old had just finished a 14-day liquid diet before he died.
"Operation Shred has started (10 days later) and the goal is to be back to that form of a few years ago by July! Let's go #healthy #fitness #feelgood(sic)," Shane had posted a few days earlier. And it wasn't the first time he'd gone on a 14-day liquid diet, according to his manager, who said Shane had done the same three or four times before.

dr Satish Koul, Director, Internal Medicine, Fortis Memorial Research Institute, Gurgaon, explains what the "liquid diet" is: "It's a very low calorie diet – less than 600 kilocalories. This diet is useful for patients preparing for bariatric surgery, bowel surgery, or special weight-loss programs, such as electrolyte monitoring, under close supervision. That's because people with underlying conditions can have sudden metabolic changes that can be detrimental to health, such as: B. Electrolyte imbalances that can lead to cardiac arrhythmias and even death."
"Just don't do it," says Dr. Sushila Kataria, Senior Director, Internal Medicine, Medanta, Gurgaon. She tells us it's all about liquids like juices from vegetables and fruits. "Prolonged use of just one type of food or restricted foods can be harmful to the body. It lacks a balanced diet and is made up of more water and salts such as electrolytes and potassium. Also, results can be seen in a short period of time, but the weight will come back if not monitored and managed in an appropriate manner," explains Dr. Sushila.
While Shane's autopsy revealed he died of natural causes, experts agree that continuing such a crash diet for an extended period of time can lead to serious health problems and, in some cases, sudden death. Vaishali Verma, Consultant Dietitian, Diabetes Educator at HCMCT Manipal Hospital, Dwarka, says: "There is no data that liquid feeding can lead to death. But long-term use of Liquid Diet can lead to muscle wasting, fluid overload and protein deficiencies with all the micronutrients. And that can also lead to organ damage."
dr Kataria gives examples of poisoning from bottle gourd and bitter gourd juice, and shares that these juices sometimes contain a toxin called cucurbitacin toxin, which can cause heart failure, a drop in blood pressure, and bleeding from various areas. "Liquid diets can also cause problems by creating an electrolyte imbalance by lowering sodium levels or increasing potassium levels, which directly affects the heart's pulse and can cause cardiac arrhythmias. Fluid overload can also occur if the person is unaware of their heart and kidney function. If there's underlying heart or kidney dysfunction, the body can't absorb as much fluid and it can build up and cause pulmonary edema, shortness of breath and death," she points out.
So what's the right way to get ripped? Losing weight naturally can seem like a long process, but it varies from body to body. "If someone wants to lose weight, 1-2 kg per month is a good pace, do it regularly, eat a balanced diet, exercise and keep up the momentum," emphasizes Dr. Kataria.