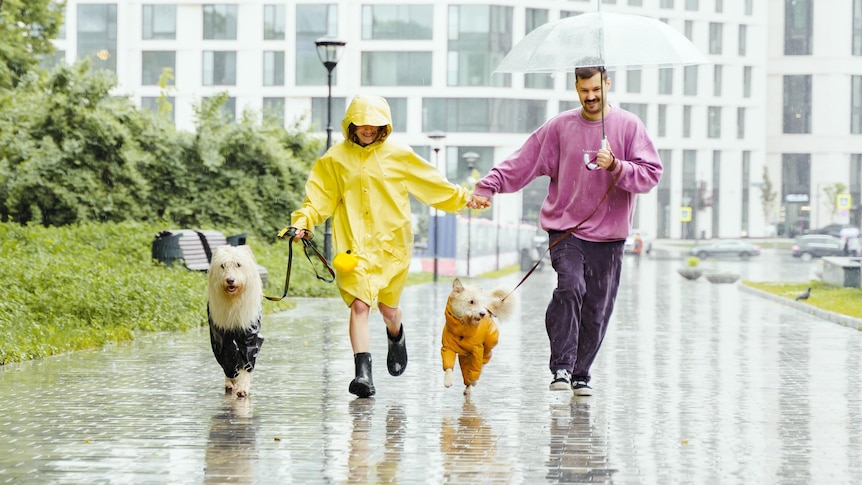 Does rain slow down your motivation to exercise? Try these 10 wet-weather-friendly fitness options
With all that rain, it might be difficult to find the motivation to exercise.
Whether you're trying to keep a New Year's resolution or just looking for a drier alternative to your current routine, here are 10 wet-weather-friendly fitness options.
Loading
Working from home
If the last two years of COVID have taught us anything, it's that almost anything can be done while sitting on the sofa. Take it to the next level with these seven exercises you can do from the couch.
Remember that exercise ball you bought years ago because you wanted to improve your posture? Reach into the back of the cabinet and use it to build core strength and stability.
If you're looking for a full-body workout, these five simple strength exercises you can do with just a resistance band and chair are for you.
Are you looking for a little guide? There are many online exercise programs and apps to help you get started or work toward a goal.
If you're considering setting up a home gym, first check out this guide to workout equipment that won't cost you a lot.
Get out of the house, but still inside
Tired of being cooped up at home but don't want to get wet? Yoga schools have sprung up all over the country and classes are offered from dawn to dusk.
Want to reap the benefits of yoga but can't bring yourself to say "Namaste" with a straight face? Pilates is another great way to build strength and flexibility while staying bone dry.
The benefits of exercise aren't just physical. So why not try some indoor rock climbing or bouldering that will strengthen your muscles and mind?
Social exercise has been shown to help get you off the couch, so dust off your gloves even if you don't want to and take a boxing class.
No matter what sport you choose, if you do take part in group exercise classes indoors, be safe and do some research on how to exercise while wearing a mask.
Still having trouble finding motivation?
Not sure what type of exercise is right for you? Use this guide and get your heart pumping.
Analyze what's stopping you by familiarizing yourself with the top five reasons people don't exercise and how to overcome them.
If you have a plan but can't stick to it, make your partner your training partner (it also brings you closer together).
Find out what works best for you, whether it's short daily workouts or longer, less regular sessions. Remember that the best exercise is what you actually do.
Set realistic goals, even if these are just the bare minimum amount of exercise you need to stay healthy.
Don't have time to train? Don't forget that there are a number of everyday activities that count as exercise.
Most importantly, though, remember that exercise isn't an option for all of us due to a number of factors.
ABC Everyday in your inbox
Get our weekly newsletter with the best content from ABC Everyday