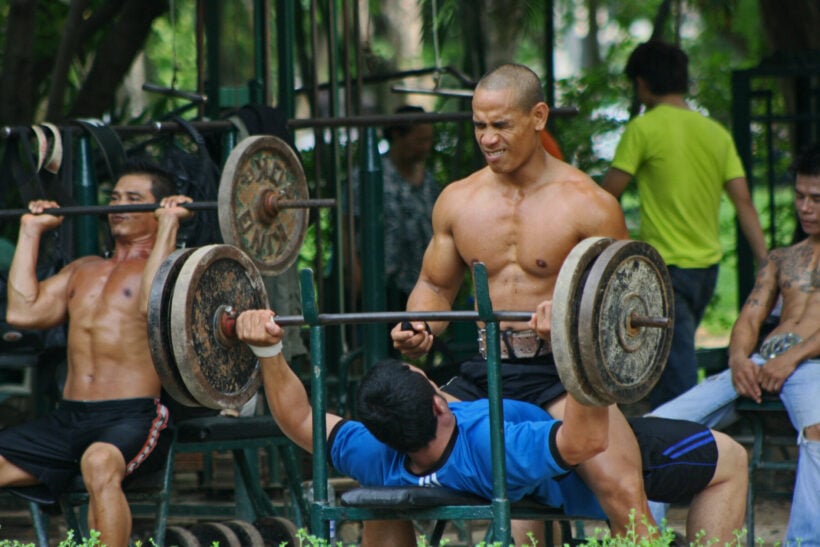 City Guide: Top Bangkok Gyms to Reach Your 2022 Fitness Goals
Bangkok's workout craze has gained momentum in recent years. In the face of the pandemic, people are more health conscious and concerned about their fitness than ever. Bangkok is now so full of fitness studios that you might think it has always been this way. You can find them in almost every mall these days. But if you're new to the scene or have never thought of yourself as a fitness fanatic, where do you go and how do you start? We've compiled a list of gyms for 2022 where you can achieve your personal health and fitness goals – and sculpt that sexy beach body!
BASE BASE has three locations in Bangkok: Sathorn, Amarin and Thonglor. They were named Asia's Gym of the Year in 2018. BASE offers group programs and personal training for people of all fitness levels. Personal training at BASE is conducted by certified and experienced fitness trainers who take into account factors such as your fitness goals, length of service and availability. Her signature combination of HIIT and strength training is extremely effective at burning fat and building muscle. They feature proprietary technology that tracks your achievements in real-time and allows you to secretly track your progress by seeing how you rank on their leaderboards. Standard group class membership costs 7,900 baht for 1 month, 19,200 baht for 3 months, 35,400 baht for 6 months and 66,000 baht for 1 year. For individual workouts, they have a variety of options, so it's better to check their website for details.
muscle factory The Muscle Factory should be your number one choice for classic physical training. This large gym is fully equipped with a wide variety of equipment, from old-school to state-of-the-art equipment. Aside from fitness and gym enthusiasts, this gym also attracts bodybuilders due to the variety of weights available. Muscle Factory advises people interested in a variety of training styles and preferences including Crossfit, Powerlifting, Strongman, Bodybuilding and General Fitness. The gym goes one step further and offers you support with nutrition or even preparation for a competition. There are two locations: one is located at Sukhumvit 56 in Bangkok and the other is in Pattaya. You don't need to become a member to use their facilities as day passes are available for 400 baht. It is 1,900 baht for 1 month, 10,200 for 6 months and 18,000 for 1 year.
Jett's fitness Jetts, which has numerous offices across Thailand, allows you to train alone or with a trainer. They want exercise and exercise to be accessible to as many people as possible, and their tagline sums it up: "Get results without spending hours in the gym." Jetts has all the equipment you need for a great workout. Each gym has a cardio area and strengthening exercises. There will also be a large section of weightlifting equipment, from barbells and dumbbells to fancy machines. There are no fixed contracts and they have qualified trainers. It costs 1,600 baht per month, but we recommend using the free trial before committing to a membership.
Virgo fitness Virgin Active is a health club with a variety of activities. Their community includes a gym and spa facility with sleep pods, saline inhalation rooms, steam rooms, grid training, a mind and body studio, and finally a swimming pool and whirlpool. Virgin has a presence in three cities in Thailand: Bangkok, where most gyms are located, Nonthaburi, north of Bangkok, and Chiang Mai. Their motto is "It's not just practice, it's an experience." You have three memberships to choose from. Casual membership costs 235 baht for one visit per week. Goal-Getter membership starts from 470 baht per week with unlimited access but a 12-week commitment. Long Termer membership starts at 720 baht per week for 12 months. All membership levels have access to workouts on demand and free coaching sessions.
fitness first If you've ever been to Bangkok, chances are you've come across a Fitness First facility somewhere. If you live here, you've probably seen quite a few of them – there are 34 clubs across the city. The vast majority of these gyms are located in or near department stores, with their main club being at the Siam Paragon. Two plans are available. My Fit is a membership that allows you to customize your own fitness plan from 1,390 baht per month. You can register for 5, 12 or 24 months. The other membership plan is Unlimited Access for 2,756 baht per month, also for 5, 12 or 24 months.
Urban playground climbing OK, we know this place doesn't fall into the traditional "gym" category, but it will definitely get your heart pumping and your sweat dripping. At almost 7,000 square meters, Urban Playground is one of Thailand's best indoor climbing facilities. Expect to feel the burn with the Boulder Zone's 70+ levels and 40+ bouldering challenges. If you are looking for a fight and a challenge you can also try your hand at the 12 meter top rope and lead climbing area. There are other services there as well, including a yoga studio, a swimming pool, and a fitness center. Two membership plans are available: an individual plan and a family plan. You can choose between 1 month, 3 months, 6 months and 1 year. Don't want a membership? No problem. A non-member pass costs 475 baht on weekdays and 575 baht on weekends.
Bangkok combat laboratory Bored with the average gym? Not a climbing fan? Are you interested in Muay Thai? Visit the Bangkok Fight Lab. The Bangkok Fight Lab is the city's premier martial arts and martial arts training facility. They offer quality instruction, a comfortable and welcoming environment, and a 1,000 square meter professional training area that includes strength and conditioning equipment, a punching area and a boxing ring. You can join one of the many classes on offer in Judo, Boxing, MMA, Muay Thai, Brazilian Jiu-Jitsu and Submission Grappling. There are countless membership prices: monthly, single/multiple, private and junior. In general, a 1-month all-access membership costs 6,220 baht, while a full-day pass costs 1,100 baht.
What is your opinion?
So there you have our top picks for Bangkok gyms to help you achieve your health and fitness goals in 2022. We hope it helps you find the best training facility for you. But whether you're going all out and signing up for an annual gym membership, or just settling for the small workout room in your condo, it's important to start and check in each day. So what's your opinion? Have you tried any of the above gyms? Or are you a member of one that didn't make the list? Where is your favorite place to train in Bangkok? Let us know in the ThaigerTalk comments section below!